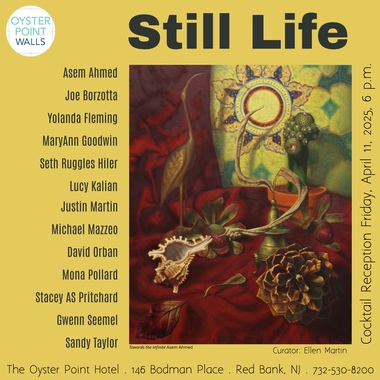 Palette Gallery presents "COLDPOP!" featuring paintings by ROBERT PIERSANTI and FAUSTINE BADRICHANI.
Mr. Piersanti was raised in South River, NJ, whose busy main street of mom and pop shops fostered his love of "disregarded commercial imagery." This foreshadowed the use of typography in his current work. Add to that a fascina- tion for flicker rings, comic books, model kits, trading cards, records and one can see where the pop influence in his work comes from. He has a successful career in illustration, played drums in bands, and has shown his paintings from NYC to Jersey to Milan. This show, "Cool Pop!," brings a touch of summer to our winter here in Asbury Park with mermaids, surfers and more.
Ms. Badrichani has shown her figurative works at Palette ArtSpace before. She is a French artist based in New York. These paintings are part of her "one painting a day" project that she started when her daughter was born on December 19th, 2018. Her work is a colorful exploration of the female figure.
FIGURE DRAWING w/ long poses!
Thursday January 24th, 7-9:30, $15
Classical style starting w quick poses moving to longer ones and 30 minute
poses with props and draping.
"THE MONEY MIC" Comedy Open Mic!
Friday January 11, 7 Signup/730 Start
Stand-up comedy open mic! $3 in the hat to perform, at the end 2 comics are
chosen by lucky draw to split the pot! All levels are welcome!
LIGHT OF DAY Winterfest w/ Asbury Underground!
Sat January 19th
Palette ArtSpace will once again be part of this charity music fest as we host
Leeds (acoustic) at 1:30 and Stringbean at 4:45. Free & open to the public!
Gallery hrs are Fri 4-8, Sat 12-8, Sun 12-4, most weekday afternoons, by appointment, and for events/classes etc.
Watch here for music, comedy and other events. If you are looking for a space for your event, class, workshop, get-together etc, please contact us at 201-981-2395 or paletteap@aol.com.