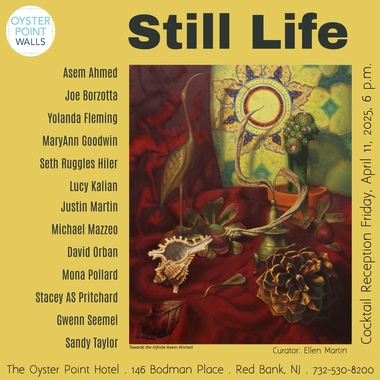 Palette Gallery proudly presents "Contemplation," paintings by Lorraine DeProspo and wall sculptures by Alison Golder, both NJ artists. In the moody, atmospheric imagery by Ms. DeProspo, one can "feel" the climate, the enveloping power of nature's weather and seasonal humidity and cold as presented via the ocean. The worn wood and rescued materials in Ms. Golder's work are not cold, clean, geometric constructions; there's an undeniable element of the human touch coupled with the unrelenting march of time and nature's hand and their effect on the man-made. Together, the timeless beauty of these two artists' works create an array of emotions and generate self-reflection about one's place in time and existence.

Ms DeProspo: "My dialogue with the sea is ongoing, and a repetitive subject in my work. I am particularly interested in the elusive quality of fog on the water, which can be sensed but never truly seen, felt but never fully grasped. There is something irrefutable about the draw of the sea. Intangible and seductive, it summons us all, individually and collectively, for solace, reflection, company. The rhythms of the sea are ever changing – quiet, strong, gentle, raging – taking me back time and time again, always finding something new."

Ms. Golder: "In my mind, these mixed media constructions reside somewhere between painting and sculpture. I love the process of combining salvaged and fabricated bits and pieces; breathing new life into the rescued "finds" of everyday life. More than anything else, I am captivated by the beauty of a well-worn surface."

We also have several prints and original works by gallery artists in the rear section of the gallery.