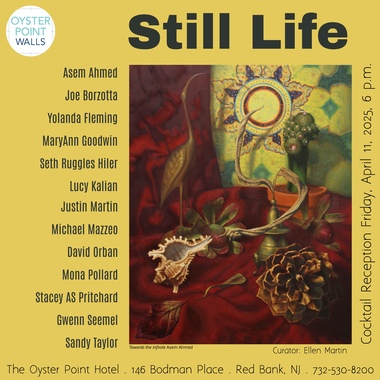 Palette ArtSpace proudly presents the two winners of our juried show "2UP," KATIA BULBENKO and GLORIA PACIS, who will share our main wall.

Juror Chris Burkhardt (BAMA Gallery, Hoboken NJ) asked us if he could pick an extra artist for our Juror's Picks Individual Pieces because there were so many quality submissions. They are: JANET BOLTAX, DAWN SIMON and MICHELLE TRUSIANI. The exhibit runs from March 20-April 29. Opening reception Sat April 7 from 7-10pm
EVENTS!
Fri 4/13: Rock Wilk in a solo play, "Brooklyn Quartet" directed by reg e gaines.
7:30, $5
Sat 4/28: "Comedy On The Half-Shell" returns with comics from NY, LA and NJ! Mike Abruczi, Joey B, Carl, JC Hendricks, Tiz Irie, and Kate Nichols!
8pm $7
Sun 4/29: "Singers On The Half-Shell" starring EMILY GROVE live onstage along with Tara Dente and Joseph Alton Miller! 1pm and only $5 for this special semi-unplugged show!

Stay warm and check in here or on our Facebook page (Like it while you're there!) for classes, events and more.